NewGen Global READERS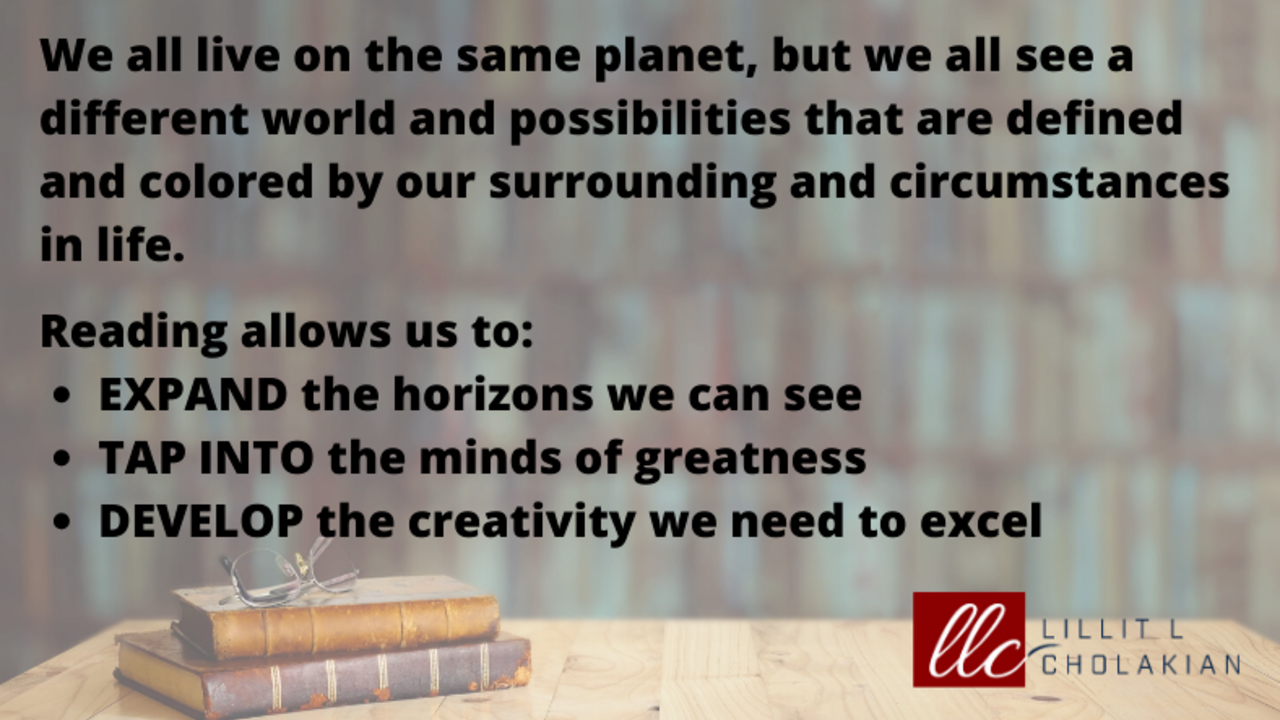 We live in a time and world that gives us so many opportunities. With the technological proliferation and permeation of every aspect of our lives and every sector of our society, I am fascinated and energized by the opportunities we have to read and grow all the time. There should be no excuse for not growing and living up to our full potential with so many resources available to us that weren't to our predecessors just a couple of generations ago.
Just think about it, we have access to:
Public Libraries that are filled with a variety of books that we can all enjoy free of charge (yes it is not totally free - taxpayers pay for it, but that is not the point here),
Online Programs/Apps, like Audible, that allow listening to books while driving, alone or with the family on a road trip, or doing chores at home, or exercising,
Various sources and online bookstores for purchasing used books at much lower prices than buying the new books,
Access to information online through various research platforms
Above are just a few examples of how accessible information is to us today - so lack of information is a lame excuse by those who don't want to grow.
"Reading is essential for those who seek to rise above the ordinary." Jim Rohn
However, we have to be also cognizant of the fact that there is a lot of material out there that can be more harmful than helpful, that can keep us stuck in the mediocre and comfort zone than elevate and help us rise above ordinary!
So I have decided to use this blog to share the books that I absolutely believe are a must for all NewGen Global READERS to read:
The Holy Bible - you might wonder why I put it first and in fact, I had a teenager ask me "why is it so important to read a book that was written nearly 3,000 years ago, how relevant can it be to our current society and issues and challenges we have today that were not there 3,000 years ago". My answer to that - God's word is the unchangeable and undeniable foundation for all generations. Regardless of societal and cultural differences, God's core values and teachings did not and do not change. If you would think of it as a skeleton remaining always the same, just being dressed with different fabrics, colors, and designs of our socio-economic and political environments. And you will find it amazing how many books are out there that are based on God's core values - they are simply stated differently to make it more accessible and relevant to generational uniqueness.
Think and Grow Rich by Napoleon Hill
As a Man Thinketh by James Allen
Outwitting the Devil by Napoleon Hill
No Excuses Mindset by Farshad Asl
The Science of Getting Rich by Wallace D. Wattles
The 7 Habits of Highly Effective People by Stephen Covey
How to Win Friends and Influence People by Dale Carnegie
The 15 Invaluable Laws of Growth by John C. Maxwell
The 21 Irrefutable Laws of Leadership by John C. Maxwell
From Poverty to Power by James Allen
Lean In by Sheryl Sandberg
Start With Why by Simon Sinek
Leaders Eat Last by Simon Sinek
The 21 Indispensable Qualities of A Leader by John C. Maxwell
The Holy Spirit: An Introduction by John Bevere
Secrets of the Millionaire Mind by T. Harv Eker
Lead Like Jesus by Ken Blanchard, Phil Hodges, Phyllis Hendry
The One Thing by Gary Keller, Jay Papasan
Failing Forward by John C. Maxwell
2 Chairs: The Secret That Changes Everything by Bob Beaudine
Today Matters by John C. Maxwell
The Circle Maker by Mark Batterson
Draw the Circle by Mark Batterson
No Limits by John C. Maxwell
The 5 Love Languages by Gary Chapman
The Miracle Morning by Hal Elrod
The Power of Now by Eckhart Tolle
Good Leaders Ask Great Questions by John C. Maxwell
LeaderSHIFT by John C. Maxwell
Sometimes You Win Sometimes You Learn by John C. Maxwell
Developing the Leader Within You 2.0 by John C. Maxwell
Put Your Dream To The Test by John C. Maxwell
Psycho-Cybernetics by Maxwell Matz
The Gifts of Imperfection by Brene Brown
The 5 Levels of Leadership by John C. Maxwell
Becoming a Person of Influence by John C. Maxwell
How Successful People Think by John C. Maxwell
The Leader's Greatest Return by John C. Maxwell
STAY TUNED FOR MORE SUGGESTIONS
I will be adding to my list all the time. So keep checking back to this blog to get ideas of books you can read. Make it a habit of reading at least ONE quality book every month and you will be amazed at how it will transform your life!
"The reading of all good books is like a conversation with the finest (people) of the past centuries." Descartes
#Abundancemindset
#GrowthMindset
#NewGenGlobalLeaders